Since yesterday I brought up memories of my sabbatical in Madrid and how a book I read later intervened in that memory, it seems fitting that today I post about the book Kim Gordon: Noise Name Paintings and Sculptures of Rock Bands That Are Broken Up, published last October by the Deste Foundation For Contemporary Art and edited by Karen Marta.
Thanks to my collaboration with Paul Chan and his project Hippias Minor at the Deste Slaughterhouse on the Greek island of Hydra, I was lucky enough to have been invited to the opening of Kim Gordon's exhibition at the Benaki Museum in Athens, where the collection of ancient art and antique objects contrasted with the dripping names of Gordon's noise paintings and her screwed up balls of sculptures.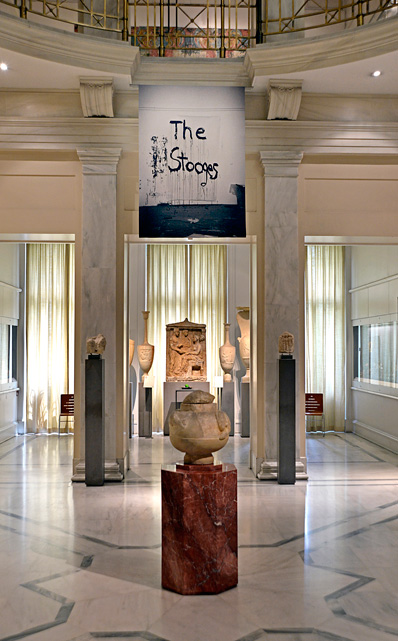 At the opening Gordon was busy performing with her band BODY/HEAD (the recording of which is included as a vinyl record with the book), but the next day I was able to ask her about what it meant to her to have her works about noise bands in a museum of antiquities. Her reply was really intriguing as she recognized the correlation between her act of memorializing these bands (which had now broken up) and the way we memorialize the (often broken up) fragments of the ancient world.
At the time, Gordon's comment did not immediately resonate for me with Paul Chan's project to re-imagine Plato's oddball dialogue Hippias Minor as three 'breezies' on the Slaughterhouse roof. In fact, it took me until I read the book to see the connection between the two artists' use of naming and their noise.
Chan's contribution to the book is called Variation on 8.084 and it is an amalgamation of text-works that he made for his work/book New New Testament. In New New Testament Chan reimagines the history of ancient philosophy by replacing the names of ancient thinkers (e.g. Socrates, Plato, Epicurus) with modern day actors, singers and celebrities, and ancient philosophical schools with corporations (e.g. Christianity becomes Geico!). This process of updating and obfuscation was also apparent in Kim Gordon's gesture of not only memorializing the names of noise bands in scrawling, dripping paintings, but also through the illegible balled-up sculptures. Both Chan and Gordon, therefore, parade the name but are also attuned to the abstracting noise which comes from a name's resonance. To celebrate the way these two very different artists approach names and their noise, from modern noise bands to ancient Greek philosophers, I have compiled a list of names from their works, mixing them up and even adding couple of Chan's replaced ancient originals. I have also included some uninformed speculations (as I am not literate in noise band history) as to the names hidden in Gordon's screwed up sculptures:
Pussy Galore
Patrick Neil Harris
Dead Machines
Plato
Weak Sisters
Yellow Tears
Richard Bodéüs
Ted Nugent
Hair Police
Harry Reid
Sickness
Sarah Jessica Parker
The Stooges
Marc Jacobs
Fortress of Glassitude
Geico
Secret Abuse
Due War
Epicurus
Noise Nomads